I have been fascinated with storms and especially lightning for as long as I can remember. Growing up in San Antonio, Texas, we had storms all the time, especially in the Spring. When I was 13 years old, I built a camera to photograph lightning for my school science fair. The camera was a simple pin-hole camera made out of cardboard sealed with black gaffe tape, bolts and wing nuts for loading / advancing 35mm film.
Once the camera was loaded with slide film, (I believe I used 400ISO) the film was exposed by lifting a black card hinged to the camera with tape. When there was a flash of lightning I would cover the small hole, advance the film and try again. I was so excited to get the slides developed and discovering I had actually captured my first lightning strike!
I was hooked after that. I started to use my parents camera and tripod every chance I got. There was nothing like trying to capture lightning. Shooting on film, you had to wait several days to get the film back to see if any lightning was captured. Most of the time, the slides were black, but the excitement I felt when I captured lightning was awesome. My poor mom, she would take me outside of town with a clear view of an incoming storm and wait in the car while I tried to get a shot. That has always been a great memory for me. This was 30 years ago, so I am a little fuzzy about how long this went on for and when I moved on to another hobby as teenagers tend to do. I was thrilled to find these slides tucked away in a box, scan them and share my beginnings as a weather photographer with you.
Below are the images I photographed using the Yashika Electro 35. The Yashika had a great timer on the side of the camera that allowed for long exposures. By the fuzzy look of the images, I didn't have a great tripod or steady surface, but the exposures are good. Click on the image to enlarge!
[alert type="note"]The Yashika Electro 35 GSN was the first camera I used for lightning photography. The Electro GSN was one of the most popular cameras in the world in the 70's. It had a sturdy metal case similar to Leica at the time. I used the "slow" yellow light all the time, it indicated slow shutter speed basically telling me when I should use a tripod. I still have it to this day, the picture below is what it looks like now 🙂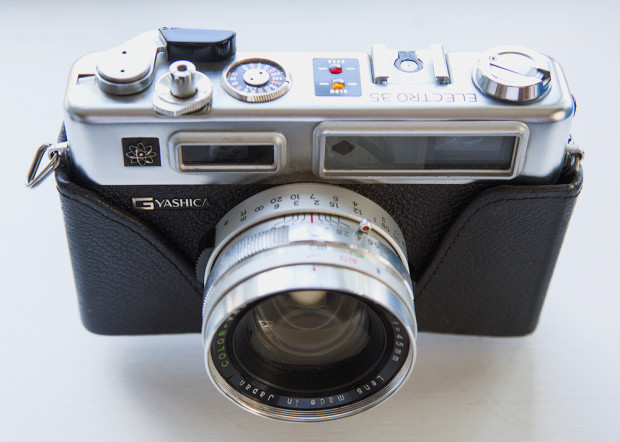 [/alert]
Interested in more? check out my lightning photography gallery. A few of my favorites are below
---
---
You might also like
---